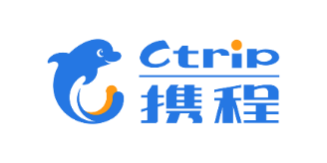 Ctrip: Flight
Booth No. F036
Ctrip was founded in 1999, headquartered in Shanghai, China, with more than 30,000 employees. At present, Ctrip has established branches in 95 domestic cities such as Beijing, Guangzhou, Shenzhen, Chengdu, Hangzhou, Nanjing, Xiamen, Chongqing, Qingdao, Wuhan, Sanya, Nantong, 22 overseas cities such as Singapore, Seoul and Hong Kong, and service alliances in Nantong, Scotland and Edinburgh. Network center.
As a leading comprehensive travel service company in China, Ctrip has successfully integrated the high-tech industry with the traditional travel industry, providing all-round travel services including wireless applications, Hotel booking, air ticket booking, tourism vacation, business travel management and tourism information to more than 300 million members. Ctrip is praised as a model of seamless integration of Internet and traditional tourism.
With stable business development and excellent profitability, CTRIP was successfully listed on Nasdaq in December 2003. On the day of listing, CTRIP achieved the highest increase in the opening day of three years, and its market value now exceeds $23 billion.
Today, Ctrip is in the leading position in the online travel service market. It has been ranked China's No. 1 Tourism Group for four consecutive years and is currently the second largest online travel service company in the world market value.
携程旅行网创立于1999年,总部设在中国上海,员工超过30000人,目前公司已在北京、广州、深圳、成都、杭州、南京、厦门、重庆、青岛、武汉、三亚、南通等95个境内城市,新加坡、首尔、香港等22个境外城市设立分支机构,在中国南通、苏格兰爱丁堡设立服务联络中心。
2010年,携程旅行网战略投资台湾易游网和香港永安旅游,实现两岸三地的互通。2014年,投资途风旅行网,将触角延伸及北美洲。
2015年,携程战略投资艺龙旅行网,并与百度达成股权置换交易完成对去哪儿网的控股,同年,携程首次被评为中国最大旅游集团,并跻身中国互联网企业十强。
2016年1月,携程战略投资印度最大旅游企业MakeMyTrip,并在新加坡成立了东南亚区域总部。同年10月,携程加大对北美洲地区的投入,与纵横、海鸥、途风达成合作。11月,携程投资英国机票搜索平台Skyscanner(天巡),完成了对海外机票市场的布局。自此,携程完成全球化的相关业务布局。
作为中国领先的综合性旅行服务公司,携程成功整合了高科技产业与传统旅行业,向超过3亿会员提供集无线应用、酒店预订、机票预订、旅游度假、商旅管理及旅游资讯在内的全方位旅行服务,被誉为互联网和传统旅游无缝结合的典范。
凭借稳定的业务发展和优异的盈利能力,CTRIP于2003年12月在美国纳斯达克成功上市,上市当天创纳市3年来开盘当日涨幅最高纪录,目前市值超过230亿美元。
今日的携程,在线旅行服务市场居领先地位,连续4年被评为中国第一旅游集团,目前是全球市值第二的在线旅行服务公司。
Address
968 Jinzhong Road
200335 Shanghai
China
Contacts
Homepage:
Email:
Tel: