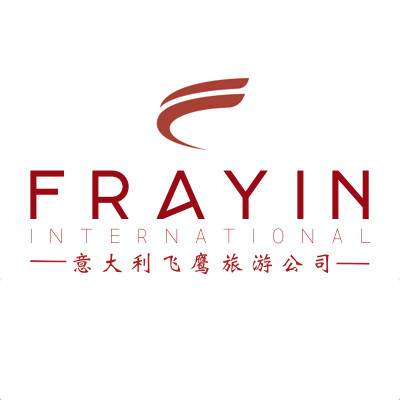 Frayin International
Booth No. A051/D071
Frayin International is involved since 1999 in the travel market.
Base in Rome (Italy) is a joint venture between Chinese and Italian partners arranging tours for private tourists and business delegations.
Frayin International has a long experience as a DMC for Italy also providing support for European destinations for groups and individual travelers thanks to a young, professional and multi-language staff who can carefully support you in each step.
Frayin International can arrange travels for holidays, weddings, meetings, commercial ties, international congresses, exhibitions, training courses and every kind of business oriented trip. The company also arranges cultural exchanges in the field of technology, medical assistance, computer's planning, bank management and arts.
Frayin意大利飞鹰是意大利入境市场专门接待中国团组的并且一直是属于最早的一批目的地接待社之一
多年来,旅行社定位于中高档团组的接待,成功在意大利和欧洲境内组织安排和接待了政府,商业和文艺演出团组的欧洲之行。
对于未来市场,旅行社将会增加普通行程之外的具有特色的文化艺术之旅和自然景观之旅,让我们的客人更好的了解这个伟大的国家。
我们都知道,我们不仅要向客人介绍意大利最重要的古迹,而且必须传达每个艺术品背后所包含的更深刻的寓意:意大利的经验和生活方式,这是将来推发旅游市场发展的两个最重要的因素。

我们知道旅行不仅要欣赏美丽的异国美丽的风景,还更加要了解这个国家的故事历史,传统和习俗。Frayin国际提供你需要不同特色的新行程路线,这个要归功于我们的带团导游所积累的宝贵经验,将确保所有客人在离开之前会有一个全新的感受和体验。

我们公司专门为客户量身定制特殊行程, 来适应客户和市场的需求, 让客人感受以意大利制作 made in italy的关心和照顾, 保持行程的质量 , 为客人同时提供最好的服务
飞鹰拥有一个充满活力和灵活的团队,Frayin International为豪华旅游提供专属服务,组织和操作不同类型的VIP服务。乘坐私人飞机或者各种豪华轿车在意大利和欧洲旅行,从最豪华的游艇的到度假村, 以及最好的酒店服务,客户能体验的都是独家服务的 这是长期积累的市场经验结果。从包租游艇,包机,私人飞机,直升机到豪华车,从高尔夫到水疗和其他情况配合客人导购均有专业人士会和你在一起,陪伴您在欧洲各个城市度过美好的时光。从游览罗马,米兰到威尼斯,从尼斯到巴黎,从苏黎世再到阿姆斯特丹 ,只要您最想要的旅游观光城市, 为自己准备好一次难忘的旅行吧。
Address
Via Federico Nansen 26
157 Roma
Italy
Contacts
Homepage:
Email:
Tel:
Product Groups
Incoming Agencies
Destination Management Companies
Luxury Tour operators/Travel agencies