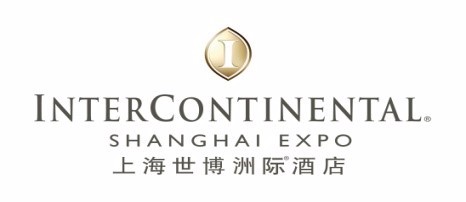 INTERCONTINENTAL SHANGHAI EXPO
Booth No. D080
上海世博洲际酒店,坐落于南浦大桥黄浦江畔,俯瞰中国馆,坐拥迷人的黄浦江与流光溢彩的城市天际线,置身其中,您将享受到我们为每位尊贵客人提供的专属高效的中式服务,领略精彩地道的当地文化与视野。

"城市,让生活更美好"的世博主题的酒店得到最完美的诠释,我们旨在向客人传播更健康更优质的生活理念。酒店拥有一个覆盖一整层的时尚健康生活空间,包括健身中心、水疗馆、游泳池和瑜伽,还有露台,慢跑道和繁茂的花园让客人与户外有更多亲密接触的机会,滨江人行道也仅邻酒店数步之遥。酒店宽敞豪华的宴会厅均配备了一流的试听体统,拥有自然采光,还有特别设计的休息区域。另有九个可一览壮阔江景的会议室,更有私人别墅供您选择。酒店内多种融合东西方特色的用餐选择,更加彰显海派文化的海纳百川。
InterContinental Shanghai Expo ,based on the requirements as provided, we are delighted to provide the following proposal outlines our rates and availability for your review.

Thank you for considering the Intercontinental Shanghai Expo for your for coming meeting. InterContinental Shanghai Expo is the only international luxury hotel located adjacent to the 2010 World Expo site with impressive views of Expo, Huangpu River and city skyline. Offering personalized efficient Chinese service, guests can obtain the local knowledge and insight to make the Shanghai and Expo experience truly enriching and authentic.

The hotel itself embodies Expo's "Better City, Better Life" theme, promoting better well-being and quality of living for all guests. In has an entire lifestyle floor with gym, spa, pool, yoga and allows guests to easily connect with the outdoors, with its terraces, jogging track, expansive gardens and proximity to the river promenade. InterContinental Shanghai Expo offers a spacious Grand Ballroom and Terrace Ballroom with an outdoor area. Additional private villas and 9 function rooms with spectacular river views are available. Its' wide and electric mix of Asian and Western dining options further enhances the Shanghai's culture and diversity.
Address
上海市浦东新区雪野路1188号
200125 上海
China
Contacts
Homepage:
Email:
Tel:
Product Groups
Hotels/hotel chains
Conference and congress hotels
Conference & Meeting Venue
Catering Trade