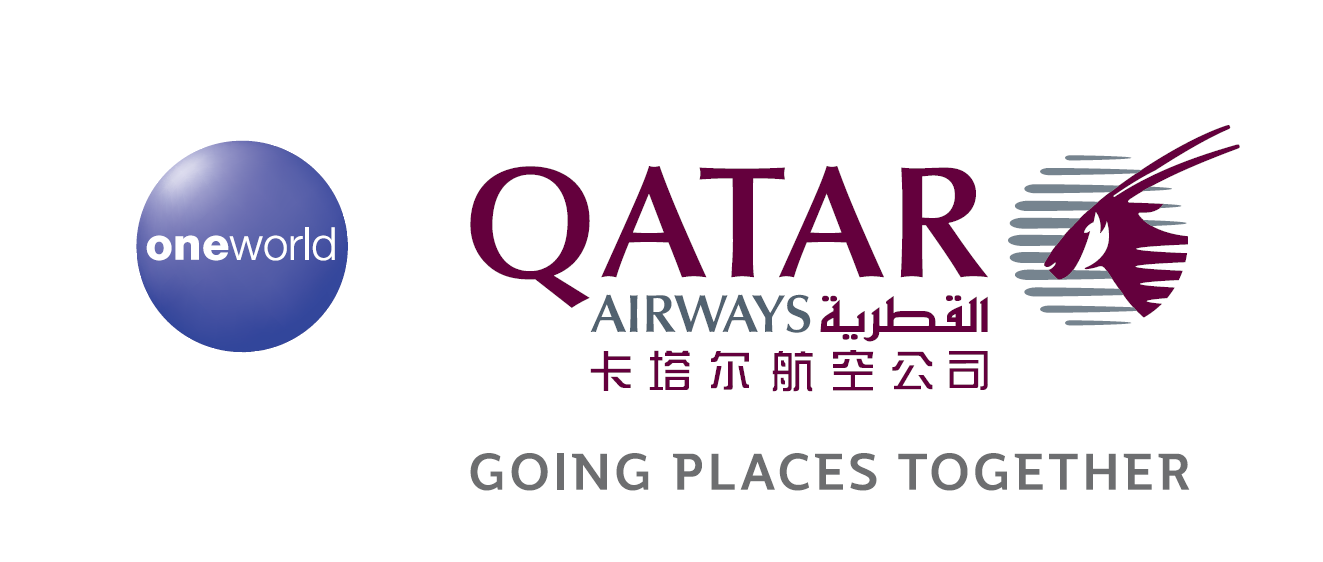 Qatar Airways
Booth No. B103
Qatar Airways, the national carrier of the State of Qatar, is celebrating more than 20 years of Going Places Together with travellers across its more than 160 business and leisure destinations on board a modern fleet of more than 250 aircraft.

A multiple award-winning airline, Qatar Airways was named 'World's Best Business Class' by the 2018 World Airline Awards, managed by international air transport rating organisation Skytrax. It was also named 'Best Airline in the Middle East', 'World's Best First Class Airline Lounge' and 'Best Business Class Seat', in recognition of its ground-breaking Business Class experience, Qsuite. Qatar Airways has been awarded the coveted "Skytrax Airline of the Year" title, which is recognised as the pinnacle of excellence in the airline industry, four times.

Qsuite, a patented Qatar Airways product, features the industry's first-ever double bed in Business Class, as well as privacy panels that stow away, allowing passengers in adjoining seats to create their own private room, a first of its kind in the industry.

Oryx One, Qatar Airways' in-flight entertainment system offers passengers up to 4,000 entertainment options. Passengers flying on Qatar Airways flights served by its B787, B777, A350, A380, A319 and select A320 and A330 aircraft can also stay in touch with their friends and family around the world by using the award-winning airline's on-board Wi-Fi and GSM service.

Qatar Airways proudly supports a range of exciting international and local initiatives dedicated to enriching the global community that it serves. Qatar Airways, the official FIFA partner, is the official sponsor of many top-level sporting events, including the FIFA 2022 World Cup.

Qatar Airways Cargo, one of the world's leading international air cargo carriers, serves more than 60 freighter destinations worldwide via its world-class Doha hub and also delivers freight to more than 160 key business and leisure destinations globally on more than 250 aircraft.
卡塔尔航空是卡塔尔国家航空公司,现已成立20周年,拥有一支由超过250架飞机组成的现代化机队。卡塔尔航空秉承"与你同飞翔"的理念,将乘客送往世界160多个商务及休闲目的地。卡塔尔航空发展迅速,还将在其航线网络中增加一些令人激动的新航点,包括里斯本(葡萄牙),马耳他,拉巴特(摩洛哥),兰卡威岛(马来西亚),达沃(菲律宾),伊兹密尔(土耳其)以及摩加迪沙(索马里)。

卡塔尔航空是一家屡获殊荣的航空公司,在2018年世界航空大奖评选中,被国际航空运输评级机构Skytrax评为"全球最佳商务舱"。在此次Skytrax的评选中,卡塔尔航空还凭借其专利产品Qsuite空中套房赢得了"全球最佳商务舱座椅"奖项 。此外卡塔尔航空还被颁发过"中东最佳航空公司","全球最佳头等舱休息室",及四次"Skytrax年度航空公司"称号等一系列殊荣。

作为业界首个4座合并及双人床配置的商务舱座椅,Qsuite 配有可调节的隐藏面板,乘客可随时升起与毗邻座位隔绝的面板,以打造私人专属空间。

卡塔尔航空是全球航空联盟"寰宇一家"(oneworld)的成员,也是海湾地区第一家加入全球航空联盟的航空公司。卡塔尔航空的旅客可享受"寰宇一家"(oneworld)遍及全球150多个国家,近1,000个目的地,每日14,250次出港航班优势。

卡塔尔航空公司采用先进的互动机载娱乐系统Oryx One,内置的电影、电视节目、音乐及游戏数量多达4,000个。搭乘卡塔尔航空公司B787,B777,A350,A380,A319及部分A320,A330客机,旅客可使用机上Wi-Fi及GSM服务,与全球各地的亲朋好友保持联系。

卡塔尔航空是多项国际及地方体育赛事赞助商,致力于丰富全球社区。作为国际足球联合会(FIFA)的官方合作伙伴,卡塔尔航空赞助了一系列顶级赛事,其中包括2022世界杯。卡塔尔航空重视体育赛事中的凝聚精神,这同卡塔尔航空的品牌理念"与你同飞翔" (Going Places Together) 紧密切合。

卡塔尔航空货运公司是全球领先的国际货运航空公司,通过多哈航空枢纽为全球60多个独家货运目的地提供服务,并借助其250架飞机腹舱为160多个重要的商务和休闲目的地提供货运服务。卡塔尔航空货运公司的机队现包括8架空中客车A330货机、16架波音777货机和两架波音747-8货机。
Address
17F Jia Sheng Center, Jia No 19 Dong San Hua Bei Road
100000 Beijing
China
Contacts
Homepage:
Email:
Tel: