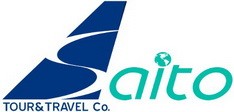 Saito Tour & Travel co.
Booth No. C012
Saito is one of the leading tour operators and travel agencies in Iran with years of successful experience in the tourism industry. The professional team and its local agents all around the country are always trying their best to provide their precious customers with high quality services at reasonable and competitive prices. Saito provides state of the art cultural and historical tours. Their experts organize a range of unique and creative programs with many interesting events for clients with special favourite activities such as:
• calligraphy,
• painting,
• cooking,
• visiting and living with nomads,
• riding,
• trekking,
• etc.
Saito's nationwide services include providing visa reference number, flights, accommodation, transportation, pre-arranged tours, tailor-made tours and professional tour guides.
西途是伊朗领先的旅游运营商之一,拥有多年成功的旅游业从业经验。遍布伊朗全境的专业团队及其在地代理商始终致力于以最有竞争力的价格,把最高质量的服务给我们最宝贵的顾客。西途以最高级的方式,带顾客开启伊朗的历史文化之旅。他们的专家们组织了一系列独特而富有创意的活动,为客户提供了许多有趣的活动,一些特别受欢迎的活动例如:
• 书法
• 绘画
• 料理
• 探访并与游牧民族一起生活
• 骑术
• 徒步旅行
• 其他
西途的全国业务包括提供签证识别码,航班,住宿,交通,行前准备,定制化旅游和专业的旅游向导。
Address
Kashani
1471645584 Tehran
Iran
Contacts
Homepage:
Email:
Tel:
Product Groups
Cultural and Study Tours
Safari Holidays
Town Sightseeing Tours/ Walks
Family Holidays
Customized Tour